I am such a meat and potatoes girl! And, potatoes are my FAVORITE food! I love hash browns, french fries, mashed potatoes, sweet potatoes…yeah, you get the point!
Hubby taught me how to make these sweet curry homemade french fries. It's so easy, I can do it! So, you can too.
And, it's a totally budget friendly side dish, as a whole bag of red potatoes is typically under $4.00
You just need a few red potatoes (I used four, although three are pictured!). First things first, set your oven to 375 degrees. Then, wash the potatoes, cut them into french fries, and place them in a dish that you have already drizzled with a little olive oil.
Now for the all important ingredients! You'll need Japanese style Panko bread crumbs (not the soft little bread crumbs…We need the big hunkin' crunchy ones for this!), any kind of cajun seasoning, a little bit of orange or lemon rhinds if you have them, and the star of the show: sweet curry seasoning!
Shake away all over the french fries:
Place in the oven for 45 minutes, although you'll need to check at 20 minute intervals and scrape the fries around in the pan so they don't stick! Then, they come out nice and crunchy with a little yellow color due to the curry:
Yum-o!
I've also used this same set of seasoning on breaded chicken and breaded pasta!
Bring on the carbs! What are you cooking in your kitchen this week?
I am linking up to: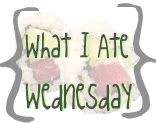 {Oh, and the lovely Jenn over at WIAW actually used panko bread crumbs on her recipe today! We have a tendency to think alike! Check it out here!}